Twin The Bin
Reflecting on the importance of recycling, you are ready for an important task with the game Twin The Bin.
Collect as many items as you can in the given time.
Remember, you have to collect the right leftovers in the right box.
You will have both fun and learn in the unblocked arcade game.
Good times!
CONTROLS;
Desktop: Use arrow keys to move your character
Mobile: Use arrows to move your character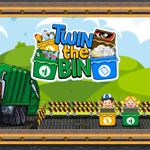 PLAY GAME