Into Space 2
An adventure in space! Jump on the spaceship and get ready for the flight.
After takeoff, the fuel will run out very quickly.
In the first round you will lose the lower part of your ship.
Try to collect items in the air that will support you, such as coins, gasoline.
You can strengthen your features with the money you earn.
Your fuel is 2. when the time is over, you will lose altitude and fall.
Try to stay in the sky as much as possible and not perform tasks.
May it be easy for you in the unblocked adventure game!
CONTROLS;
A or Left – turn left D or Right – turn right S or Down – turn off engine W or Up – use boosters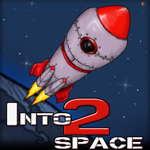 PLAY GAME