Mr Fight Online
Mr. Fight is a wrestling and fighting game where players will have to use a particular set of physics laws to thrash and throw and defeat all opponents.
Prepare to fight all enemies but... with your body. Use your characters and toss against the enemies to destroy everything in your way.
Unlock amazing skins and different gameplay modes.
CONTROLS:
Use the mouse or touch to aim and shoot the character.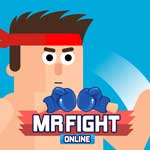 PLAY GAME