Stickman Ghost Online
Your goal in the Stickman Ghost Online game is to finish off your enemies.
Swing your sword tuesday and knock down all the enemies you encounter.
He gives gifts when he kills some of his enemies.
Collect gifts, accumulate gold and spend it on new swords.
A very fun stickman game is here as yet unblocked!
CONTROLS;
Controls: WASD to move Spacebar to jump Click to attack On mobile devices use the on-screen buttons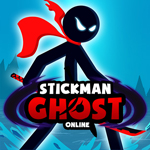 PLAY GAME