Shaun The Sheep Sheep Stack
Shaun and his farm buddies are determined to access an appetizing snack that stands in one of the windows of a tall tower in each episode. In this Shaun The Sheep game, which is just one of the games in the championsheep series, they need to work together to get there.
Help Shaun and his friends reach the window by catapulting them so they can pile on each other.
This game does not include any element of violence
You can play this game at school with your friends with permission of your teacher
CONTROLS
LEFT CLİCK AND DRAGGİNG FOR THROW A SHEEP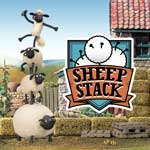 PLAY GAME