Drunken Tug War
Brand new and super fun Drunken Tug War now is on our website and it is even unblocked at schools.
Press your pull key as fast as possible and beat your opponent.
You can play with a friend of yours or you can compete against computer.
This full of competition game does not inlcude any element of violence and proper for you to play.
CONTROLS
PLAYER 1
Up Arrow Key For Pull
PLAYER 2
W For Pull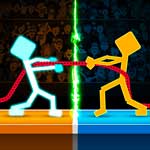 PLAY GAME