Adventure Time : Finn Love
Adventure Time : Finn love game is now out!! and it is even unblocked at schools.
Objective of this game collect all golds with Finn.
To do so you need to jump right at the time and being carefull about your next step.
This super cool game does not include any element of violence and proper for you to play at school.
CONTROLS
Left Click For Jump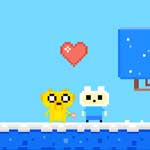 PLAY GAME