Atari Missile Command
Atari Missile Command is now available on our website!!
You try to keep your town safe in this game.
You have limited ammo and destroy missiles as much as you can.
Points you get depends how many tower you covered from missiles.
Use your ammos carefully and make best shots.
This game is unblocked in schools you can play it with your friends .
Good Luck On Your New Adventure
CONTROLS
MOUSE CLİCK FOR FİRE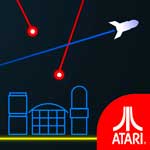 PLAY GAME