Battle Soccer Arena
With Battle Soccer Arena, you will enjoy football with your friends at school.
There is no goalkeeper in this game, which can be played with 6 people.
The game is free and unblocked, which allows you to score as many goals as you want.
Come on, don't stop, click and start this fun challenge with your friends right now.
Have fun!
CONTROLS;
SPACE BAR to kick / slide ARROWS to move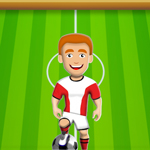 PLAY GAME