Bouncy Race 3D
It's great to jump and run! Get ready for a great race with the fun racing Bouncy Race 3D.
All kinds of obstacles will appear in front of you in the race that you will start with your opponents.
Dodge them all and speed up when you get your strength back. And most importantly trampolines.
You can cross part of the track by jumping over trampolines. If you can land on the track again, of course :)
You can play this unblocked game for free on our website with its colorful design.
Have fun!
CONTROLS;
Use your mouse, arrow keys or swipe to move your character left/right.
When in a jump, use the same left/right movement to position the landing marker and land your character back on the track.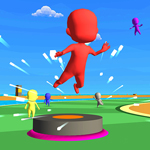 PLAY GAME