Canoniac Launcher
Launch your robot to the farthest! Save money for this and buy the necessary materials.
A sweet adventure awaits you in a fun and unblocked game.
If you wish, you can compete with your friends.
Let's see which one of you will be able to launch the farthest?
Have fun!
CONTROLS;
se your mouse to aim Hold down the left mouse button to power up. Release it to fire. Click with your mouse to shoot Jimmy.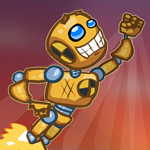 PLAY GAME