Castle Wars Middle Ages
Castle Wars Middle Ages game now out!!
Defend your castle from zombies and skeletons.
You can use your castles mortar bomb but be careful it is limited.
The more you destroy your enemies you will get different weapons or upgrades.
You can even play this game with your friend as a teammate against zombies or you can battle with your friend.
This game is unblocked at schools and appropriate for you to play at school.
CONTROLS
PLAYER 1
WAD FOR MOVEMENT
S FOR BLOCK
E FOR ATTACK
PLAYER 2
ARROW KEYS FOR MOVEMENT
DOWN ARROW KEY FOR BLOCK
SPACE FOR ATTACK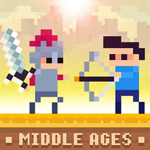 PLAY GAME