Death Lab
Enemies are waiting at different points.
You need to kill them with various weapons in your hand.
Choose the right weapon and hit the target precisely. Kill all your enemies.
Sometimes you have a bullet, sometimes a bomb, even a ray gun.
Use them all and clear the area from the enemies.
Exciting minutes begin with the unblocked shooting game Death Lab.
Have fun!
CONTROLS;
keyboard+mouse/touchscreen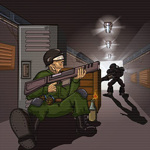 PLAY GAME