Gang Fall Party
Gang Fall Party is a fun io fighting game. Shake your fists in the arena and fight for first place.
Stay away from the edges because the moment you fall, it's game over! Your fists will get stronger every time you defeat your opponent!
Fiery fists will make your job even easier. Gang Fall Party game supports 1 and 2 player modes.
You can fight with your friend in 16 other players too!
Controls:
PLAYER 1: MOVE: "W,A,S,D" RUN: "C" PUNCH: "V"
PLAYER 2: MOVE: "ARROW KEYS" RUN: "O" PUNCH: "P"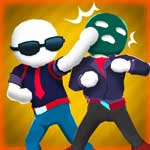 PLAY GAME