Hunter Hitman
The assassins are after him! Can you challenge all the assassins with the knife in your hand? Click here to join the action-packed game. Come on!

What is waiting for me when I play Hunter Hitman?

Hunter Hitman delivers the action packed assassin killing arcade game experience.
Start the game as a soldier with a gun. You're surrounded by assassins. Move forward in hiding and attack. His only weapon is the knife in his hand! That's why you should stay away from areas where assassins will see you. Approach quietly behind them. Destroy them when they don't expect it. Destroy them all in a short time and proceed to the next sections. Collect coins to get different character appearances. Get daily rewards. Unlock the cards. To upgrade characters, you need to combine 3 of the same cards. Take your place in a challenging action game with simple controls. May it come easily!
Who can play Hunter Hitman? Is it suitable for children?

Players of all ages who love action and arcade games can play Hunter Hitman. This game is suitable for children and is not blocked.

Is the Hunter Hitman game played at school unblocked ?

You can play with your friends either when you are alone at home, at school or on the street. If you are at school, don't forget to get permission from your teacher. If you are at home, you will enjoy it much more if you play after finishing your study. If you are on the street, go to a safe place where you can relax and invite your friends to this unique race.
What does Hunter Hitman get me?

It strengthens their reflexes, increases hand-eye coordination and concentration. It strengthens your ability to make the right movements at the right time with fast movements when necessary.
How to play Hunter Hitman on web and mobile?

Sneak up on your enemies and eliminate them all.

Can I play Hunter Hitman online and for free on my computer?

Of course! You can play the game without having to download it. Play the game using your keyboard and mouse. Even playing in full screen mode is much more enjoyable.

Action-packed hours are waiting for you in Hunter Hitman game. If you're looking for an action-packed game to kill time too, here it is right in front of you. Click and let the suspense begin!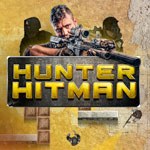 PLAY GAME