Hurdles Heroes
The tournaments have started.
Jump through all the obstacles to become the first in the hurdles running race.
You have to be careful and jump at the right time to get past your opponents.
You will have a lot of fun playing the unblocked 2-player sports racing game with your friends at school.
Come on, enjoy the race!
CONTROLS;
Player 1: "W" Player 2: "UP ARROW"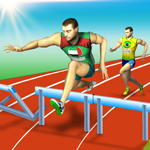 PLAY GAME