Into Space 3
Candies from the exploding candy factory are scattered in the sky.
You need to jump on the missile and collect them.
Although unblocked arcade game is a simple looking game,
collecting as much candy as you can before you run out of gas requires struggle.
Have fun!
CONTROLS;
Mouce/Touchscreen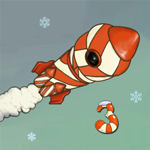 PLAY GAME