Jellystone Express
We are going back in time and we are partnering in a unique arcade driving game. Get behind the wheel with Yogi the Bear and start the delivery. Let's party!

What is waiting for me while playing Jellystone Express?
Jellystone Express, a fun arcade driving game experience is waiting for you.
You will spend hours of fun in the arcade driving game made by Cartoon Network. Yogi the Bear is behind the wheel. There are packages that need to reach the residents of the neighborhood who are friends of yours. You need to take the packages to their destination safely. You will face difficulties, but do not be intimidated. Proceed to the other sections by completing the tasks in the shortest time. You will take over as a racing pilot who will come to the place. Join you in this adventure full of pace. Come on!
Who can play Jellystone Express? Is it suitable for children?
Players of all ages who like cartoon, arcade and driving games can play Jellystone Express. This game is suitable for children and is not blocked.
Is the Jellystone Express game played at school unblocked?
You can play with friends whether you are alone at home, at school or on the street. If you are at school, don't forget to ask permission from your teacher. If you are at home, you will enjoy it much more if you play after finishing your studies. If you are on the street, go to a safe place where you can relax and invite your friends to this unique race.
What does Jellystone Express get me?
Strengthens reflexes, increases hand-eye coordination and concentration. It strengthens your ability to make the right movements at the right time with quick movements when necessary.
How to play Jellystone Express on web and mobile?
Movement: Arrow Keys
Can I play Jellystone Express online and for free on my computer?
Of course! You can play the game without having to download it. Play the game using your keyboard and mouse. Even playing in full screen mode is much more enjoyable.

Time will pass quickly in the unique game where you can double the fun by joining with your friends. Click to try it right now. Don't miss Yogi the Bear' bin adventures!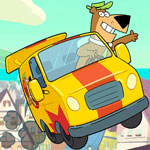 PLAY GAME