Mine Brothers The Magic Temple
We are publishing this new FireBoy and WaterGirl game for you to play on your own or with your friends together at school.
The objective of this game is help FireBoy and WaterGirl to reach to the endpoint of each level.
There are obstacles that you have to pass over or you may need solve puzzles.
Remember Fireboy can go through into fire but not the water. You always need to think your next step
Good luck on your new adventure
This game does not include any element of violence , it is completely safe and proper for you to play at school ,and your teachers will let you to play this game in class. But dont forget about your homeworks.
Remember picking the diamonds . Each character only can pick the diamond of same essential with itself
Controls
WASD or Arrow keys to move
Spacebar to change character
E for action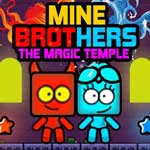 PLAY GAME