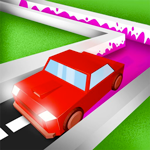 Roller Road Splat - Car Paint 3D
Roller Road Slpat is now out!!
This game is super fun and with mind blowing fun never stops.
Objective of this game is make the cars move right at the time.
If car crashes each other you lose.
This game does not include any element of violence and it is unblocked at schools.
CONTROLS
LEFT CLİCK TO MAKE THE CAR MOVE