Hexa Cars
Hexa cars is a game you can play on your own against computer or play with your friends.
The blocks that you touch disappears and you try to not fall.
You earn golds as long as you stay alive be the last one standing and win this game .
This game does not include any element of violence and it is appropriate for you to play at school.
CONTROLS
ARROW KEYS FOR MOVEMENT
SPACE FOR JUMP
PLAY COOL GAMES!!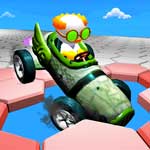 PLAY GAME