Minewar Soldiers Vs Zombies
Minecraft world has opened its doors with a brand new game. You are facing an attack of zombies.
Deploy your troops and collect coins and diamonds from every zombie you kill.
When the coins you have collected accumulate, position the new soldiers in their places.
Fight together with your friends in the unblocked minecraft game.
Play at home or at school and don't miss the fun.
Have a pleasant time!
CONTROLS;
Instructions: Control the soldiers with the mouse, right click or touch the screen on mobile devices and tablets.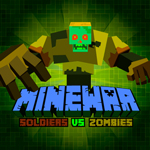 PLAY GAME