Mission Coronavirus
Get behind the wheel to fight Coronavirus, advanced graphics, realistic physics and smooth gameplay await you in this free game Mission Coronavirus. Prevent the virus from spreading in Mission Coronavirus with +50 different missions. An action-packed ambulance driving game, a unique city and flowing traffic await you in Coronavirus.
Good luck !

Game controls:
You can direct the ambulance with the arrow keys or W, A, S, D,
You can change the camera angles with the C key,
You can turn the lights on and off with the L button.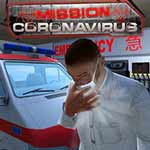 PLAY GAME