Rabbit Samurai 2
The task of finding the bees lost in the forest belongs to our hero rabbit.
Come on, help him. Find both bees and collect carrots and crystals.
You can play the very fun unblocked adventure game with your friends.
Good times!
CONTROLS;
Use mouse or arrows to launch grappling hook. On mobile device simply touch anywhere to launch hook.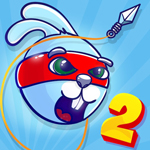 PLAY GAME