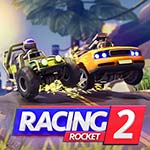 Racing Rocket 2
Racing Rocket, the popular game of mobile platforms, the 2nd version of the game Hihoy.com with you. In this version of the game, in addition to the multiplayer online mode that will be added soon, you can participate in relentless races with groups of two and four people online, improve your car with the gold you win from the races, and even continue your adventure by purchasing powerful new vehicles.
GAME FEATURES
Exciting stunning graphics.
Different from ordinary games and game physics.
Online races for 2 and 4 people.
Monetize with award-winning video ads.
GAME CONTROLS
•Acceleration: Right arrow key
•Brake: Left arrow key
•Directions: Up arrow key