Ragdoll Duel 2P
Are you ready for a duel? Let the fun duel begin with Ragdoll Duel 2P.
With the 2-player option, you can play at school with your friends in this game,
the fun will be at its peak.
If you are playing alone, you can fill the health bar with the money you have saved and buy a gun.
Click for an unblocked and free game, start having fun!
CONTROLS;
Game Controls; Player 1: "W" Player 2: "UP ARROW" Also, you can use "MOUSE" for 1 Player!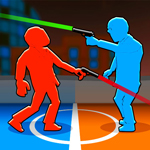 PLAY GAME