Run Rich Challenge
Take action for the poor girl in Run Rich Challenge.
Collect coins and bills. Your clothes will change as you get richer.
Bad habits lead to poverty. Even if you are very rich, you can keep collecting coins so that your clothes keep changing.
Fun times are waiting for you!
CONTROLS;
Slide to play.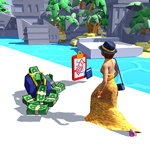 PLAY GAME