Sprinter 2
We are distrubuting this new super fun game for our website visiters.
Objective of this game is use right and left arrow keys in a perfect harmony to make our guy run faster than other guys.
And be the first one reaching the finish line.
Every end of the level you can upgrade your character skills and abilities.
Also you can buy new character with golds that you earned with being first on the race
This game does not include any element of violence
You can play this game at school with your friends with permission of your teacher
Controls
Left and Right Arrow Keys For Movement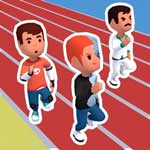 PLAY GAME