Super Metal Wars
In the metallic world of robots, a crazy war adventure awaits you. Get ready for action-packed minutes. Come on!

What is waiting for me when I play Super Metal Wars?

Super Metal Wars delivers an action-packed, 2-player robot war game experience.
Grab your gun and start shooting. Fight against robots in the depths of space, between planets or on a spaceship. Play against the CPU alone. if you want, play with your friends thanks to the 2-player option. You will fight your opponent 5 times on platforms full of danger. Don't forget that your guns have a limited number of bullets!

Who can play Super Metal Wars? Is it suitable for children?

Players of all ages who like science fiction and robot war games can play Bus Stop. This game is suitable for children and is not blocked.

Is the Super Metal Wars game played at school unblocked ?

You can play with your friends whether you are alone at home, at school or on the street. If you are at school, don't forget to get permission from your teacher. If you are at home, you will enjoy it much more if you play after finishing your study. If you are on the street, go to a safe place where you can relax and invite your friends to this unique race.
What does Super Metal Wars get me?

It strengthens their reflexes, increases hand-eye coordination and concentration. It strengthens your ability to make the right movements at the right time with fast movements when necessary.
How to play Super Metal Wars on web and mobile?

1 Player:
Movement: Arrow Keys
Shoot: L Key
2 Players:
1. Player: Movement: WASD
Shoot: F Key
2. Player: Movement: Arrow Keys
Shoot: L Key

Can I play Super Metal Wars online and for free on my computer?

Of course! You can play the game without having to download it. Play the game using your keyboard and mouse. Even playing in full screen mode is much more enjoyable.

Fight in the shimmering metallic world of robots! This job won't be easy. Enjoy!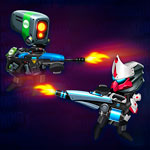 PLAY GAME