Titan Swamp Attack
Have fun playing Titan Swamp Attack, an exclusive new game where you will enjoy playing an adventure in the swamp full of enemies of all kinds, monsters, robots
that will try to eliminate you !!!! Have fun with this new game.
Help the little titan to save the world from a terrible attack that begins in the swamp, a terrible boss took the swamp by force and wants to start the destruction of the world !!!
But luckily the little titans have the help of your skills to save the world.
CONTROLS;
Use the arrows to move, jump, use the mouse to attack and shoot.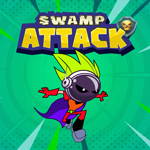 PLAY GAME