Vex 6
VEX 6 is the latest addition in the series of this stickman-parkour-platformer!
Jump and slide your stickman through 9 new Acts + 9 new Hard Acts. Each Act ends with it's final stage to complete: 'Vexation.'
Make sure to collect the coins on your way to unlock 64 different skins for your stickman.
You want to earn extra coins? Then come back to VEX 6 every day to complete the daily tasks and play the daily bonus level.
VEX 6 is visually stunning as it's now running on a higher resolution and 60fps!
CONTROLS;
ARROW KEYS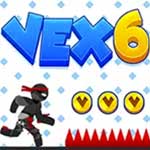 PLAY GAME