Yummy Chocolate Factory
We are going on a journey in the sweet adventure of chocolate.
The task, which begins with extracting cocoa beans, ends with sweet chocolates.
You can also play the delicious and appetizing unobstructed cooking game with your girlfriends.
Delicious minutes are waiting for you.
Have fun!
CONTROLS;
Use MOUSE to play the game.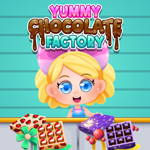 PLAY GAME