456 Survial Game Challenge
The famous game of recent times is here with its new face.
Since this game, which includes 4 different sections, is unblocked, you can easily play it anywhere.
Here are the sections you will see:
Red Light - Blue Light Dalgona Candy Tug Of War Jump on Glass Death or win with Big Money!
Good luck
CONTROLS;
Tap To Run.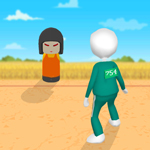 PLAY GAME