Basket Swooshes Plus
Basket Swooshes Plus is with you with 3 different features.
If you want, compete for the world cup, if you want, fight against the clock.
With the 2-player option in the unblocked game, it is possible for you to play with your friends at school.
Click and start this crazy fun.
Have a pleasant time!
CONTROLS;
Move pointer to aim and shoot. Reach 11 points before the other guy,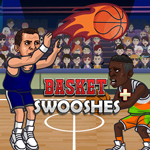 PLAY GAME