Basketball Stars
Super fun and full of competition game Basketball Stars now available on our website and it is even unblocked at schools.
You can compete with your friends or you can play against computer.
Choose legendary basketball players and show your strength and talent.
This game does not include any element of violence and proper for you to play at school.
CONTROLS
PLAYER 1
WAD FOR MOVEMENT
S FOR SHOOT
PLAYER 2
ARROW KEYS FOR MOVEMENT
DOWN ARROW KEY FOR SHOOT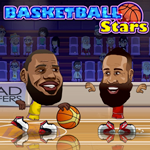 PLAY GAME