Battlefield Elite 3D
Battlefield Elite 3D is a multiplayer war game. The characters will be in a pixel style war,
you must constantly fight the enemies and you must be the winner, But be careful not to stay in the poison zone.
Defeat all your enemies at the end of the game and be the winner!
Controls:
W/A/S/D controls character movement.
Mouse to control the direction.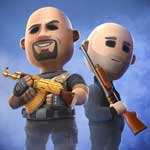 PLAY GAME