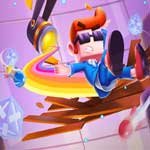 Mr.Bullet Big Bang
New super fun game Mr. Bullet Big Bang is out now!!
Objective of this game is aim with your mouse and make the best shot.
But your bullet is a actually a guy, Mr Bullet .
Aim the target but there are obstacles that you have to pass over.
This game does not include any element of violence and it is appropriate for you to play at school.
Have Fun!!
CONTROLS
MOUSE FOR AİM AND SHOOT