MX OffRoad Mountain Bike
We are distrubuting this super full of excitement game now.
There are plenty of levels and each one of them is more challenging then the other.
Ride your bike over ramps and obstacles. Claim golds on each level.
Change your bike, your helmet and your clothes.
And make beyond any doubt your rider guy is reached end point safely.
You can indeed ride your bike on free mode .
There is 2 players choice for you and your companion to play together.
With permission of your teacher you can play this game at school with your friends or on your own.
Have fun on your new adventure
CONTROLS
WASD AND ARROW KEYS FOR MOVEMENT
SPACE FOR BREAK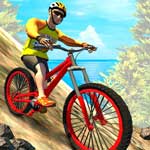 PLAY GAME