Fire vs Water Fights
Fun and sparkling effects are waiting for you in the game of Fire and Water Fights.
Be it fire or water. Your goal is to knock down your opponent.
Throw your punches and kicks and you win the 2nd division.
Play the unblocked game with 1P and 2P options for you to play with your friends.
Come on, start fighting!
CONTROLS;
PLAYER 1 MOVE: "A,D" PUNCHES: "W,S" SUPER PUNCH: "G" PLAYER 2 MOVE: "LEFT-RIGHT ARROWS" PUNCHES: "UP-DOWN ARROWS" SUPER PUNCH: "P"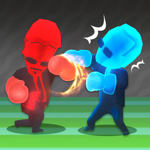 PLAY GAME