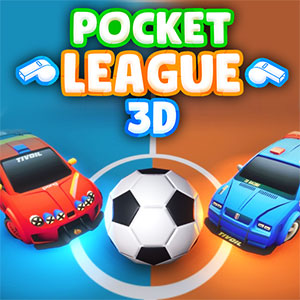 Pocket League 3D
Pocket League is a high-powered mix of arcade-style football and vehicle madness, with easy-to-understand controls competition game.
Play against computer or with your friends this super fun game has numerous levels. You can choose a flag of a country you like and play with it.
Also you can change your car, play with your friend 1v1 or include computer and play it as a team competition.
Make the highest score beat your opponents.
This game does not include any element of violence
And it's unblocked at schools you can play it everywhere with permission of your teacher.
GOOD LUCK ON THİS SUPER COOL GAME!
Game Controls:
If playing single:

Move: "ARROW KEYS"
Jump: "SPACE"
Flip: "Double SPACE"

If playing two player:

PLAYER 1
Move: "ARROW KEYS"
Jump: "L"
Flip: "Double L"
PLAYER 2
Move: "W,A,S,D"
Jump: "G"
Flip: "Double G"