Dunkers Fight 2P
Basketball races have started.
Get ready for fun with Dunkers Fight 2P, one of the unblocked 2-player sports games.
In the game you can play together with your friends at school, the goal is to throw the ball into the pot.
The one who scores the most points wins the challenge.
Have a pleasant time!
CONTROLS;
Player 1 Move: A-D Keys Player 1 Shoot: W-S Keys Player 2 Move: Left-Right Arrow Keys player 2 Shoot: Up-Down Arrow keys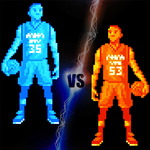 PLAY GAME