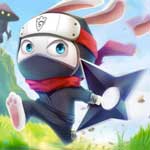 Ninja Rabbit
Ninja Rabbit game is out now!!
Objective of this game is save your friends before you reach the finish line and collect carrots.
Throw your arrow with left click and hold that part and drag yourself.
But you have to be careful there are obstacles you can not hold or you can not touch.
This game does not include any element of violence and appropriate for you to play at school.
CONTROLS
LEFT CLİCK FOR THROW ARROW