Slope Bike
A very fun and easy game awaits you with the bike riding game Slope Bike on the platform.
All you have to do in the unblocked arcade game is not to get stuck in the obstacles on the platform and not to fall to the ground.
You can play together with your friends at school.
Have a pleasant time!
CONTROLS;
PC: Press A/D or left/right arrow to steer left/right
Mobile Swiper finger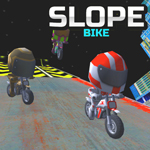 PLAY GAME