Soccer Random
More Football Game
Get On Google Play Store
https://play.google.com/store/apps/details?id=com.hihoygames.PillSoccer
All football and entertainment lovers come together in Hihoy, where are you? Football is here through the funniest and random. In Football Random game, try to score a goal using only one key with different variations!
Good luck and have fun !

Game controls:
Player 1: "W"
Player 2: "UP ARROW KEY"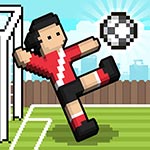 PLAY GAME