Squid Squad Mission Revenge
Our hero, a survivor of Squid Game games, is looking for revenge!
Help him and get rid of those who did this to him.
As the chapters progress, the weapons in your arsenal are unlocked.
Use your wits and shoot the target with the right gun with the right aim
Fun is guaranteed in this game that you can play unblocked and for free.
Come on, go ahead and start the adventure!
CONTROLS;
Instructions: Point and shoot with the mouse Touch the screen on mobile devices.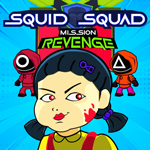 PLAY GAME