Stick Duel Battle
Stick Duel Battle is a fun and crazy stickman battle game!
Challenge your opponent with realistic physics and weapons on uncountable maps.
Each different map requires different tactics. Stick Battle Duel can be played with both 1 player and 2 players.
The first to reach 5 points wins the game.
Controls;
Player 1:
ARROW KEYS and L
Player 2:
WASD and F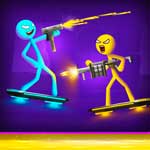 PLAY GAME