Subway Clash 2
You are ready for duty as the commander of the GRU Special Forces against a group that is moving to launch a radiation attack on your country.
Point your gun at the targets, fulfill this mission with your army and save your country from this attack.
Collect the weapons that come across you along the way.
The old subway is a huge place to hide.
Moreover, surprises are waiting for you there.
Come on, gun game lovers. This game is for you.
Free and unblocked, you can play this game at school or anywhere you want.
Have fun.
CONTROLS;
WASD - movement SPACE - jump C - crouch RMB - aim G - throw grenade 1, 2, 3, 4 - switch weapons TAB - score table L - exit mouse lock mode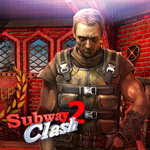 PLAY GAME