Stick Duel Revenge
Are you ready for a unique duel with your opponent? Stickman fighting game: Stick Duel Revenge. Become a partner in the battle of garbage men.
Play alone at home when you're bored or with friends at school with the 2-player option.
At the beginning of the game, you can choose what you want from different sections and weapons with different characteristics from each other. There are 10 different sections available. Your weapons are AK-7, Pistol, Bazooka, Shotgun and Uzi. It will be much more fun to surprise the game with the Random option.
Soon after the game starts, your first weapon will fall on the stage. Grab your gun before your opponent and start shooting. Since some episodes are animated, you have to try not to fall off the stage while shooting on the one hand.
Fun, excitement and action are waiting for you in super stickman fighting. Your goal in the unblocked stickman fighting game is to act before your opponent in each episode and shoot him down.
You will play 5 rounds in total in stickman chaos battle. You have to win at least 3 rounds to become the supreme stickman. Aim your bullets at your opponent, who is your target, and have no mercy. Get your revenge.
Let's start playing the unblocked 2-player stickman fight game for the most hours of fun with your friend. Hihoy Games wishes you a pleasant time!
CONTROLS;
Player 1: Move - Arrow Keys Shoot - L Key Player 2: Move - WASD Keys Shoot - F Key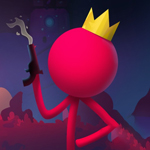 PLAY GAME