Vikings Royal Battle
We are going on a journey with the Vikings.
In Vikings Royal Battle, you jump on a ship and go to a field full of enemies.
Get ready for this adventure with a shield and an axe.
Evade the enemies' moves and hit the target precisely.
Click here for the unblocked battle and skill game, start the fun.
Have a pleasant time!
CONTROLS;
Drag to play.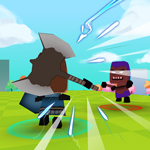 PLAY GAME