Zombie Mission X
A nasty surprise awaits Emily and Silver, who are going on vacation to enjoy the coming winter.
Their destination has already been invaded by zombies.
You have to kill the zombies who kidnapped your friends and save your friends.
Zombie Mission X is facing its lovers with its winter dessert series.
Go ahead, click on it, start this fun.
Moreover, with the 2-player option, you can play with your friends at school for free and unblocked on our site.
Have fun!
CONTROLS;
Player 1: Move: "W,A,S,D" Hit: "C" Grenade: "V" Jump: "W"(Walk on the wall) Switch weapon: "Q-E" Special attack: "Q+E" (When the SP Bar is full, press both together)
Player 2: Move: "ARROW KEYS" Hit: "L" Grenade: "K" Jump: "UP ARROW KEY" (Walk on the wall) Switch weapon: "O-P" Special attack: "O+P" (When the SP Bar is full, press both together)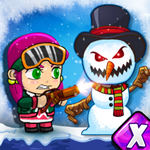 PLAY GAME